mon
tue
wed
thu
fri
sat
sun
04
14
29
30
31
Concert poster
28
december
friday
1500
beginning
of concert
Concert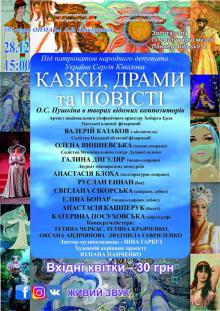 «Tales, dramas and stories by A. Pushkin in the works
of famous composers».
To the 105th anniversary of ONMA named after A. Nezhdanova.
Under the patronage of the People's Deputy of Ukraine Sergey Kivalov
The Golden Hall of the Odessa Literary Museum
(Odessa, Lanzheronovskaya St., 2)
Entrance fee is 30 UAH.